The high-quality software solution Multi Alarms by German software maker Rock Your Mobile! adds smart and user-defined alarm management to the feature set of modern Nokia S60 3rd Edition Smartphones. Several new functions offer a new dimension of alarm handling.
Features and functions:
Seven different alarm types (Once, Daily, Weekly, Monthly, Yearly, Working Days, Non-Working Days)
User-defined screen messages
User-defined sound files
User-defined sound volume and vibration
Support if activated phone profile
Easy and smart usability
Build-in Help function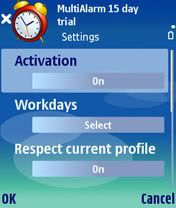 Compatible Cell Phones
Nokia E60, Nokia E61, Nokia 3250, Nokia N91, Nokia N92, Nokia N93, Nokia N71, Nokia N73, Nokia N80, Nokia E50, Nokia 5500, Nokia E70, Nokia E61i, Nokia E62, Nokia E65, Nokia N93i, Nokia N95
Like all high-quality software products for Nokia Smartphones Multi Alarm is Symbian Signed certified and tested!
Supported languages
English, German and Russian
Download
Multi Alarm For Symbian 3rd Edition