FLVPlayer is a freeware application for playing flash flv video files.you can play Flash Videofiles downloaded from YouTube or any other video sites on your phone.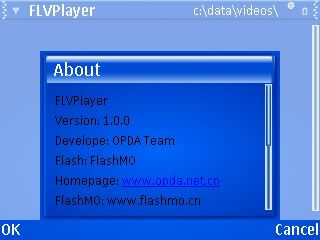 Compatible Phones
Nokia N95, Nokia 5700, Nokia N81, Nokia 6121 classic, Nokia 6120 classic, Nokia N77, Nokia E61i
Nokia E65, Nokia 6110 Navigator, Nokia E90 Communicator, Nokia N93i, Nokia N76, Nokia 6290, Nokia N75, Nokia N91, Nokia E62, Nokia E50, Nokia 5500, Nokia N73, Nokia N93, Nokia N71, nokia N92, Nokia E60, Nokia E70, Nokia E61, Nokia 3250
Download
FLVPlayer 1.0 For Symbian 3rd
Comments
adi

This player is of no use coz it does not play .flv videos that are downloaded for Youtube on my Nokia 91(Series 60 3rd edition).

The ghost

fck u

abk

hello i cant say any thing

fu

fxxk, wasting my time…

jeronemo

it's very good application
with adobe flash lite 3 it work perfectly

criticizer blood

fuck u asshole player. whyt the fuck do they make suck mother fucking
programes

MF

fuk u its nt workin in n70

Nick

What is the point of making these programs for just the nokia phones? There are other models that are missing out on these much needed programs!!! I use an amoi 8709 and I cant get most of these programs that I really need such as the FLV player! Sort it out!

© 2011 Phonesymbian.com. All rights reserved.